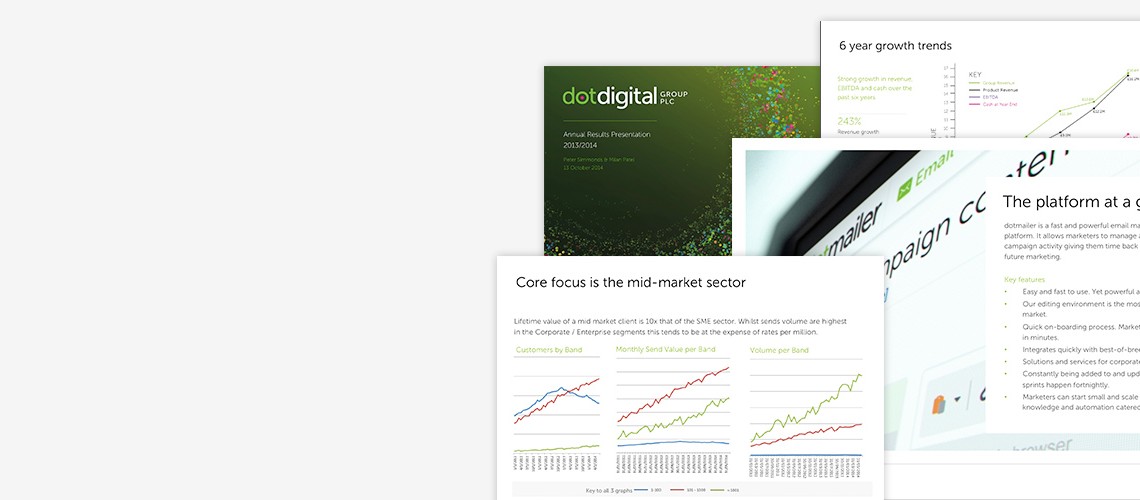 dotdigital Group Plc (AIM:DOTD), the leading provider of intuitive software as a service ("SaaS") and managed services to digital marketing professionals is pleased to announce its Final Results for the year ended 30 June 2014.
2014 Highlights
• Turnover from continuing operations increased by 33% to £16.2m (2013: £12.2m)
• EBITDA of £4.7m, up 13% (2013: £4.1m)
• Recurring revenues from dotmailer's SaaS platform of 78% (2013: 76%)
• Email creative and managed service revenues up 126% to £1.8m
• Net cash generated from operating activities of £5.2m
• Strong cash position of £9.3m at year end
• Announced today: Final Dividend Proposed of 0.2p per share – please see separate announcement
• Announced today: Board update – please see separate announcement
dotmailer
• Successful rebranding of dotmailer – incorporates a new dotmailer platform, release of powerful new features and launch of new marketing website
• New clients signed in the period include Land Securities Group, Thorntons, Ladbrokes International, Children with Cancer and National Express Bus
• Average monthly recurring spend per client increased 35% with new clients spending approx. £410 per month
Magento connector
• Over 100 clients are now using this platform – most recent wins in the UK include 7dayshop.com, Elemis, Fraser Hart, Gorgeous shop, Vax, Heals, Trunki and Fuji Film
• New US Magento partners include: Blue acorn, Pod1, Classy llama, SLI Systems, Celebros and Peer1
• Average recurring spend from clients of over £700 per month
• Gold Partnership Status' awarded directly by Magento
International Initiatives
• Strong expansion of revenues generated from customers outside of the UK – 2014 : 10% (2013 : 3%)
• Revenues from the US region performed strongly, increasing from $0.4m to $1.4m, an increase of over 200% and successful penetration into Latin America with Panama's COPA Airlines
A summary of Peter Simmonds, Chief Executive, comments on current trading and outlook:
"I am pleased to report that the new financial year has started well and in the first quarter our new business sales and monthly recurring revenues have been in line with our plans.
"Demand for email marketing and marketing automation continues to be strong both in the UK and internationally and whilst the sector is competitive the Board believes that the dotmailer platform is well placed to continue to generate strong organic growth in revenues over the coming year."