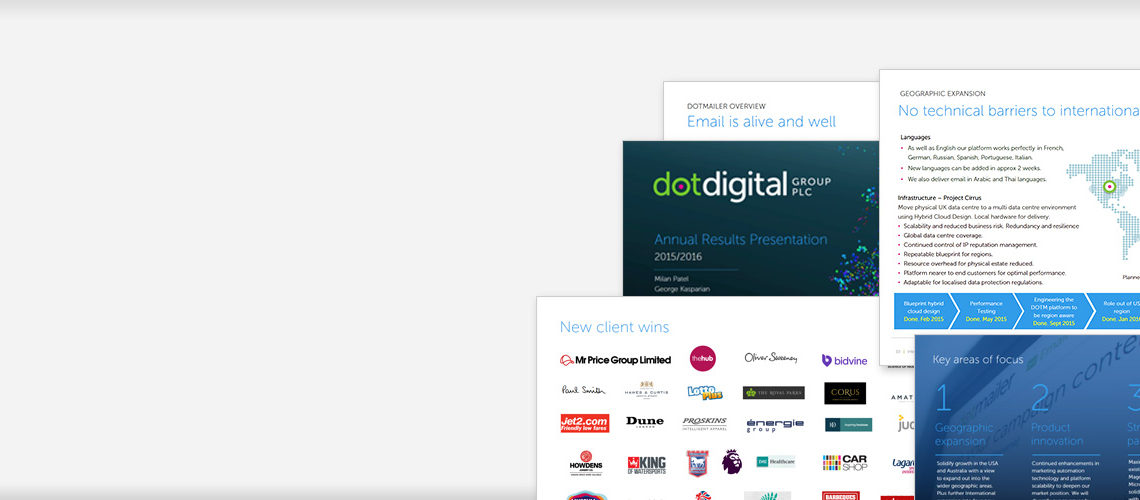 FINAL RESULTS FOR THE YEAR ENDED 30 JUNE 2016
"Strong organic growth and continued international expansion"
dotdigital Group Plc (AIM:DOTD), the leading provider of intuitive software as a service ("SaaS") and managed services to digital marketing professionals is pleased to announce its Final Results for the year ended 30 June 2016.
2016 Highlights
Key performance indicators
Turnover increased by 26% to £26.9m (2015: £21.4m)
EBITDA of £8.0m, up 17% (2015: £6.8m)
Strong cash position of £17.3m at year end (2015: £11.9m)
Net assets of £23.7m, up 29% (2015: £18.4m)
EPS up 12% to 1.83p (2015: 1.63p)
Recurring revenues of 78% (2015: 76%)
Volumes of emails sent 8.6bn (2015: 6.2bn)
International growth of 18% (2015: 14%)
Announced today: Final Dividend proposed of 0.84p per ordinary share (2015: 0.36p), comprised of an ordinary dividend of 0.43p (2015: 0.36p) and a special dividend of 0.41p (2015: nil) – see separate announcement
International growth
EMEA : Europe, Middle East & Africa
UK revenues grew 21% to £22.0m (2015: 18.3m)

Over £4m of revenues – up 106% – attributable to increased revenues generated by existing client upselling to new advanced feature adoption
Average monthly spend per client rose by approximately 29% to circa. £575
Professional services offering up from £2.8m to £3.1m with gross margins of 60%

Good progress in South Africa and Middle East with high value clients signed in period
Good initial traction has been achieved within the Nordics, Benelux and Netherlands through the Magento Partnership
US
Revenues from the US increased from US$3.0m to US$4.4m, an increase of 43%
New York office to be main hub across US
Slow start but recent new hires in sales and business development expected to drive future growth in region
Alongside the Magento Partnership, new CRM sales initiatives started with Salesforce & MS Dynamics
AsiaPac
Initial hub in Sydney, Australia with revenues of $0.6m AUS in first 12 months
Indirect sales model through Magento Connector and new Partnerships now being signed albeit slower than planned due primarily to these trusted new relationships taking longer to be established
Good progress now being made to span more broadly from Australia into AsiaPac region with opportunities to integrate the dotmailer platform via a direct sales team approach
Strong pipeline building
Magento connector
dotmailer named exclusive Global premier partner for its Magentor Connector
Average monthly recurring revenue spend has grown by 25% to approximately £1,300 per month
Magento Version 2.1 has now been released which has started to see a good client pipeline emerge in all regions across the world
New clients
Notable client wins across UK and international in the B2B and B2C sectors include: Vogue UK, Handelsbanken, Saville Group, Dune, Hawes and Curtis, Paul Smith, Eurostar International, Osprey Europe, Edcon, Mr Price and Sol Lingerie
H1 Outlook
Uncertain macro environment continually being assessed by the Board
Revenue growth in Q1 over 20%
Larger monthly spend commit from clients
Strong uptake of CRM connectors
Early signs promising for Benelux, Nordics and South Africa markets
Announced Today: Company Secretary Change
George Kasparian, dotdigital's Non-Board Finance Director, takes over the Company Secretary role from Milan Patel, CEO, with immediate effect
Commenting on the final results and outlook, Milan Patel, Chief Executive Officer, said:
"2016 was a year of continued strong organic, profitable growth for dotdigital. For 2017, our approach will be further refinement of the partner programme and developing the strategic partnerships, global expansion into the EMEA, North America and Asia Pacific regions through self-service and direct sales teams and to continue building new integrations into more ecommerce and CRM platforms that focus on the mid-market and small enterprise space.
The Board believes that the dotmailer platform, with its ease-of-use proposition, deep integrations, professional services, growing list of global partners and its scalability, is well placed to continue to generate strong organic growth not only from the markets it currently operates in today but wider into the global markets it is looking to enter."