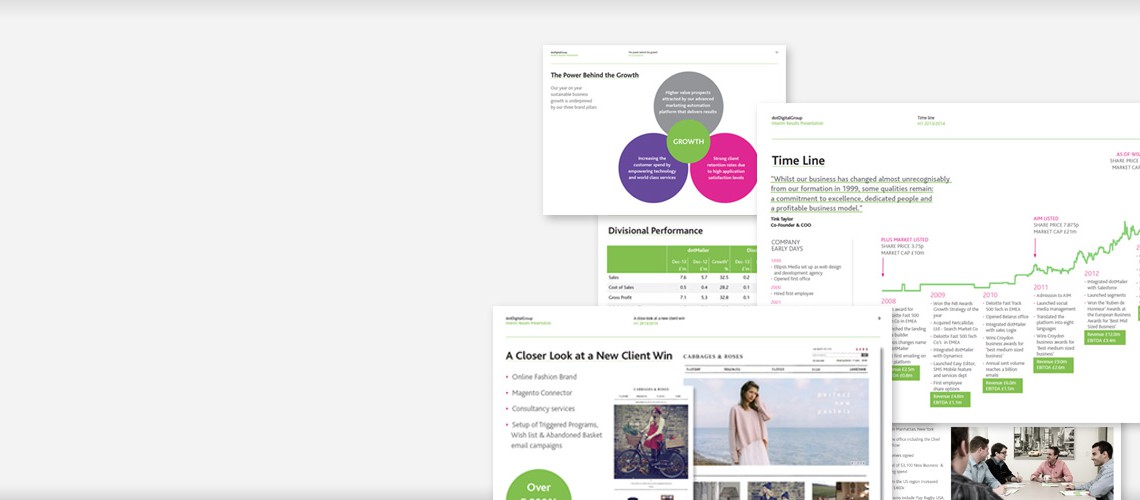 "Continued strong organic growth in line with forecast"
Six Month Key Highlights:
Revenues from continuing operations up 32.5% to £7.6m from £5.7m
Monthly recurring revenues from dotMailer's Software as a Service ("SaaS") based usage charges up 29% to £5.8m
Email related creative and managed service up 164% to £0.8m
Group operating profit before tax and exceptionals up 17.8 % to £2.1m
Net cash generated from operating activities of £2.0m
Strong net cash position of £7.3m as at 31st December 2013
dotMailer
426 new clients signed in the period including Skanska, Santander, GFK, Fujifilm, Harley Davidson, Metapack and Fraser Hart
Average monthly recurring spend per client increased from £238 to £284
Magento connector
Over 75 clients on the newly launched Magento connector
Average recurring spend from clients of £700 per month
International Initiatives
Revenue from the US region grew from $88k to $456k reflecting good initial progress
On outlook, Peter Simmonds, Chief Executive said:
"I am delighted that the strategy of focusing on fast growing medium sized businesses and corporate clients has driven average monthly spend up by 19%. This combined with a focus on longer term contracts and client retention is leading to significantly higher client lifetime values.
The initiatives to accelerate organic growth that we announced in August 2013 are already starting to deliver increased sales although as a Software as a Service business with monthly recurring revenues, the full impact will not be seen in our results until future periods.
Based on the strong performance at the half year to 31 December 2013 and the forward pipeline, the Board remains confident of achieving both revenue and profit expectations for 2014 and of delivering long term shareholder value."