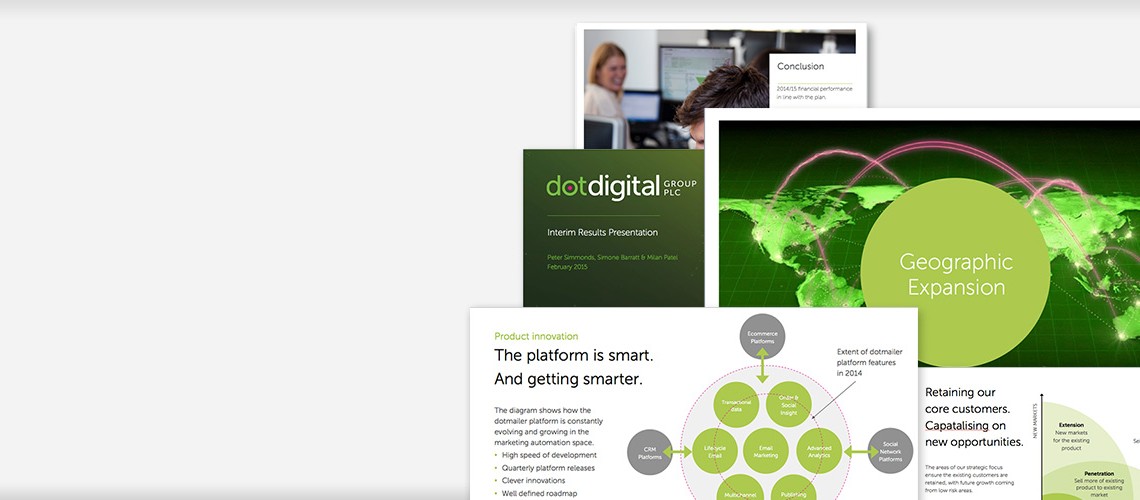 dotdigital Group Plc (AIM:DOTD), the leading provider of intuitive software as a service and managed services to digital marketing professionals, announces its results for the six months ended 31 December 2014.
Six Month Key Highlights
Revenue from continuing operations up 32% to £10.0m from £7.6m in the prior period
Recurring monthly revenue from dotmailer's Software as a Service ("SaaS") based usage charges up 28% to £7.4m
Email related creative and managed service up 38% to £1.1m
Group operating profit before tax up 17% to £2.5m
Net cash generated from operating activities of £1.4m
Strong net cash position of £9.5m as at 31 December 2014
dotmailer
Over 300 new clients signed in the period including Screwfix, govtoday, Hornby, Sony Music, Calor, MobileFun, Mustela, Worldata, Honeywell, Unison and Knight Frank
Average monthly recurring spend across all clients increased from £284 to £400
Magento Connector
Over 150 clients on the newly launched Magento connector
Average recurring spend from clients of £775 per month
International Initiatives
Revenue from the US region grew from $456k in the prior period to $1.14m, reflecting good progress in building our presence and the number of clients
Commenting on current trading and outlook, Simone Barratt, CEO said:
"The core email marketing business continues to perform very strongly and the strategy to continue to invest in the business is delivering pleasing results.
"With continued good hiring and carefully managed investment we are confident that revenue from the US region will build significantly and we plan to invest more in expanding the US team in the West Coast and Mid-America.
We will also start to build out a channel sales team in Australia which will be the springboard into the Asia Pacific markets. The value of the eCommerce market in APAC is US$37 billion and early due diligence confirms that the dotmailer Magento connector which serves the eCommerce sector will be well received by the market.  Magento is the leading ecommerce platform with a 45% market share in Australia.  We will leverage our strong relationships with the Magento system implementers and key channel partners to build out a partner network across the Asia Pacific region.
"Recent marketing product innovations delivered in January 2015 will also open new revenue growth opportunities over the next 12 – 24 months.
"To this end we are embarking on a carefully executed accelerated investment plan to scale the business further through both geographic expansion and product innovation, investing up to £3 million over the next two years. This strategy should fully exploit the exciting growth opportunities the dotmailer platform has to offer.
"Based on the strong performance at the half year, the growing demand for marketing automation, the newly released product features and investment strategy, the Board remains confident of delivering strong growth, underlying profitability and increasing shareholder value for this year, 2016 and beyond."