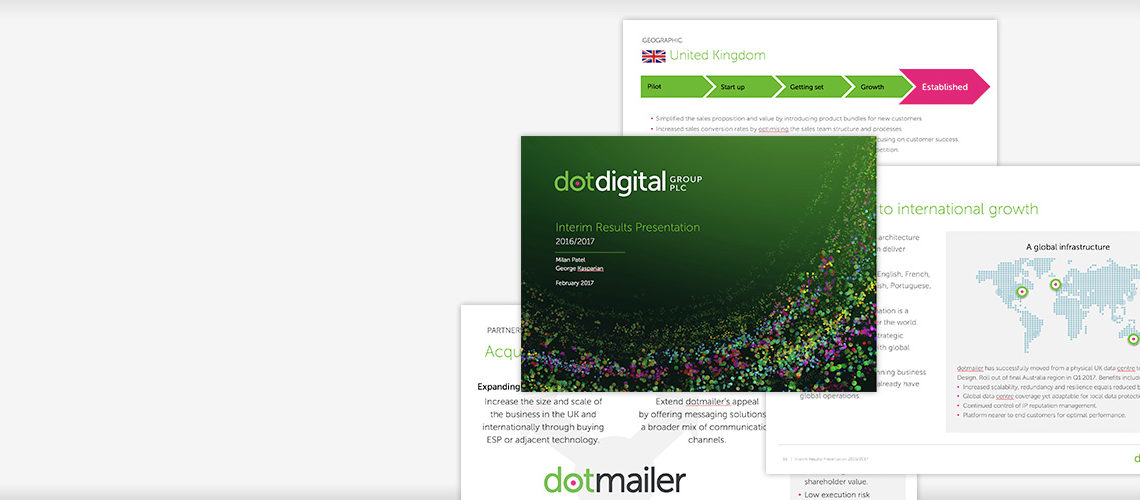 dotdigital Group Plc (AIM:DOTD), the leading provider of intuitive software as a service ("SaaS") and managed services to digital marketing professionals, announces its results for the six months ended 31 December 2016.
Six month key highlights
Revenue from operations up 17% to £15.0m from £12.9m;
Profit before tax up 30% to £4.3m from £3.3m;
Monthly recurring revenue from dotmailer's Software as a Service ("SaaS") based usage charges up 22% to £12.2m;
Recurring revenues have increased from 78% to 81% of group revenues;
Recurring revenue charges from market automation functionality has increased by 71%;
Earnings per share has increased by 20% to 1.24 pence from 1.04 pence; and
Strong net cash position of £18.9m as at 31 December 2016.
dotmailer platform
Over 250 new clients signed in the period including Tombola, Pact, CNBC, Jack Wills, Icelolly, V&A, The Conran Shop and Carpetright; and
Average monthly recurring spend across all clients has grown by 24% from £525 to £650.
dotmailer's Magento Connector
Chosen by Magento as the only Platinum Technology Partner for Marketing Automation globally;
Over 350 active clients now using dotmailer's Magento connector;
Average recurring spend from clients of £1,400 per month compared to £1,200 in the previous period; and
Annualised revenues of more than £5.6m now generated from clients using the connector.
International initiatives
Revenue from the US region grew by 11% to US$2.3m after team restructuring, price changes, indirect channel offering and broadening the sales proposition;
139% growth in revenue from APAC to AUS$0.5m, with strong pipeline; and
50% growth in revenue from EMEA countries outside of UK.
Commenting on current trading and outlook, Milan Patel, CEO & CFO said:
"Based on dotdigital's strong performance at the half year to 31 December 2016, the continued demand for marketing automation, the newly released product features and connectors and our investment strategy for further expansion into international markets, the Board remains confident of continuing to deliver strong growth, underlying profitability and increasing shareholder value for the remainder of this financial year in line with market expectation."