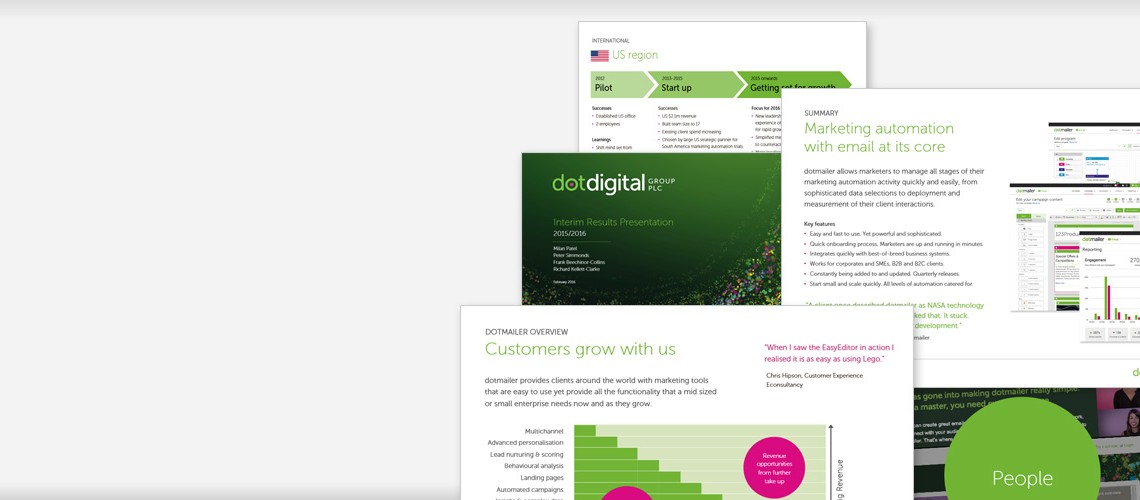 dotdigital Group Plc (AIM:DOTD), the leading provider of intuitive software as a service ("SaaS") and managed services to digital marketing professionals, announces its results for the six months ended 31 December 2015.
Six Month Key Highlights
Revenue from operations up 29% to £12.9m from £10.0m in the previous interim period
Recurring monthly revenue from dotmailer's SaaS based usage charges up 35% to £10.0m
Email related creative and managed service up 36% to £1.5m
Recurring revenue charges from market automation functionality has increased by 156% compared to the previous interim period
Profit before tax up 30% to £3.3m
Earnings per share has increased by 35% to 1.04 from 0.77 in the previous interim period
Healthy growth in net cash generated from operating activities of 139% to £3.3m
Strong net cash position of £14.8m as at 31 December 2015
Commenting on current trading and outlook, Milan Patel, CEO & CFO said:
"The strategy of focusing on fast growing medium/light-enterprise businesses and Magento clients has driven average monthly spend up by 31%. This combined with a focus on longer term contracts and client retention is leading to notably higher client lifetime values.
H1 2016 will see a keen focus on developing a robust channel and reseller pipeline especially in support of our geographic ambitions in USA and APAC.
Based on the strong performance at the half year to 31 December 2015, the growing demand for marketing automation, the newly released product features and investment strategy, the Board remains confident of delivering strong growth, underlying profitability and increasing shareholder value for this year. The investments were slower than expected in 15/16 and therefore will lead to an increased EBITDA in the current year but will see a marginally slower revenue growth in 16/17. The long term outlook for dotdigital remains positive and we look forward to providing further progress at the time of our year end trading update in July 2016."