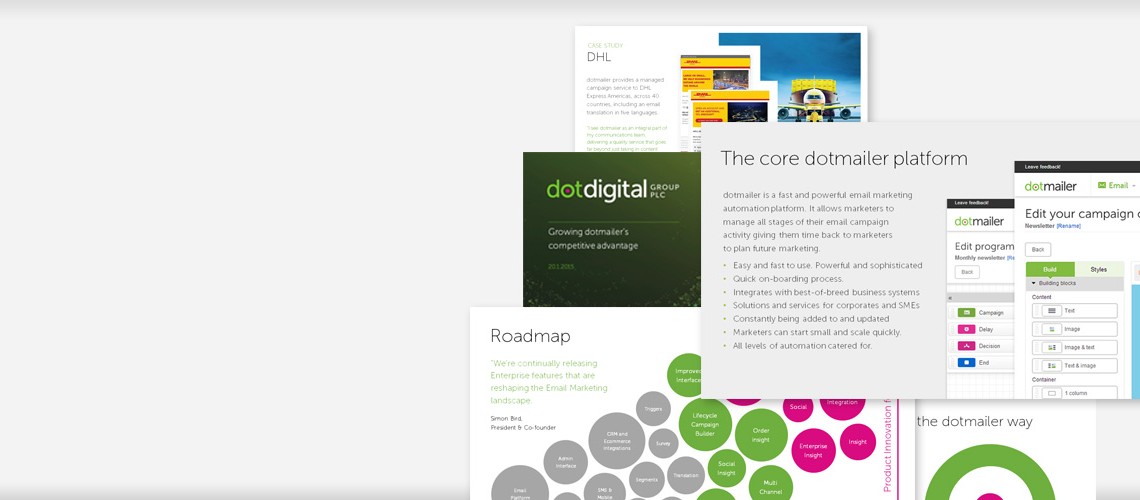 Dotdigital Group plc (AIM: DOTD),  the leading provider of intuitive software as a service ("SaaS") and managed services to digital marketing professionals, today gives an update prior to the Company's Interim Results for the six months ended 31st December 2014. The trading performance in this statement is based on unaudited initial management estimates.
First Half Highlights
Overall revenue up 31% to approximately £10.0m (H1 2014: £7.6m);
Monthly recurring revenues from dotmailer's SaaS based usage charges up approximately 28% to £7.4m (H1 2014: £5.8m);
Creative and managed service email marketing revenues grew by 57% to £1.1m (H1 2014: £0.7m);
Average revenue per client has grown by 40% to £400 per month;
The total number of emails sent by the dotmailer platform has grown by 52% to 2.6 billion;
Cash balances at 31st December 2014 of £9.5m (H1 2014: £7.3m);
Commenced a share buyback scheme and purchased, in aggregate, 285,000 ordinary shares of 0.5 pence each; and
Following approval at the AGM on 16 December 2014, a final dividend of 0.2 pence per ordinary share for the year ended 30 June 2014 will be paid on 30 January 2015 to those shareholders on the register on 9 January 2014.
The Company's organic growth strategy continues to be focused around four core areas:
Product Innovation;
Geographic expansion;
Developing strategic partnerships; and
Identifying new customer niches.
In the six months to 31 December 2014, key performance highlights against these areas were:
Development of key new multichannel automation features for release on 20th January 2015.
Growth of our US region revenues, which grew by approximately 150% from US$456k to US$1.14m.
Strengthening of channel sales team and formalising partner proposition.
Revenues attributable to partner channels grew by 146% to £2.2m.
The initiative to build revenues by creating a strongly integrated offering to the Magento mid-market ecommerce retail niche has generated approximately 150 clients with aggregated annualised revenues of approximately £2.0m.
Peter Simmonds, CEO of dotDigital, commented: "I am delighted to report that our organic growth strategy has continued to deliver revenue growth in excess of 30% through the focus on mid-market clients.
"The dotmailer platform continues to develop to provide high levels of marketing automation to our clients and the product release due in January 2015 includes some exciting new multichannel marketing capabilities.
"The group will report its Interim Results on 24th February 2015 in which Simone Barratt, CEO Designate, will provide an update on the growth plans and investment strategy for the next two years."