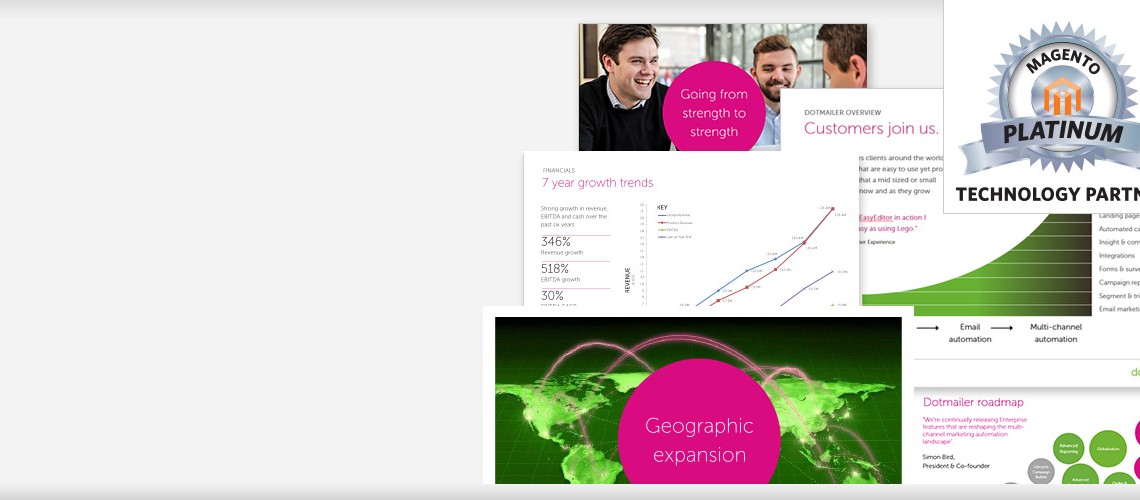 dotdigital Group plc (AIM: DOTD),  the leading provider of intuitive email and marketing automation software as a service ("SaaS") and managed services to digital marketing professionals, today gives a trading update prior to the Company's Interim Results for the six months ended 31 December 2015. The trading performance in this statement is based on unaudited initial management estimates.
First half highlights:
Overall revenue up 29% to approximately £12.9m (H1 2015: £10.0m);
Monthly recurring revenues from dotmailer's SaaS based usage up approximately 35% to £10.0m (H1 2015: £7.4m);
Creative and managed service email marketing revenues grew by 36% to £1.5m (H1 2015: £1.1m);
Average revenue per client has grown by 31% from £400 to £525 per month;
The total number of emails sent by the dotmailer platform has grown by 50% to 3.9 billion from 2.6 billion;
Strong cash balances at 31 December 2015 of £14.8m (H1 2015: £9.5m); and
Following approval at the AGM on 15 December 2015, a final dividend of 0.36 pence per ordinary share for the year ended 30 June 2015 will be paid on 29 January 2016 to those shareholders on the register on 8 January 2016.
Simone Barratt, CEO of dotdigital, commented:
"I am delighted to report that our organic growth strategy, which focusses on mid-market and light enterprise clients, has continued to deliver strong revenue growth of 29%.
The dotmailer platform continues to evolve and innovate, providing highly sophisticated yet 'easy-to-use' marketing automation tools for our clients.
Recognition and selection by Magento as being the exclusive Platinum provider of email and marketing automation functionality to their global customer base is a ringing endorsement not only of the capability of the dotmailer platform, but also of our ability to successfully support a growing international customer base.
dotdigital will report its Interim Results for the six months ended 31 December 2015 on 23 February 2016."