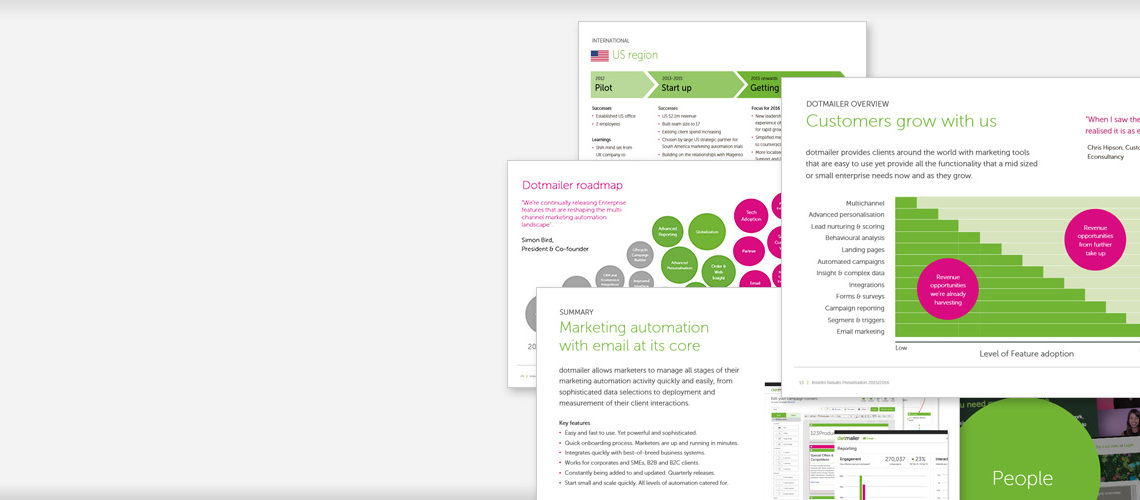 JULY TRADING UPDATE
FOR THE YEAR ENDED 30 JUNE 2016
"Strong organic growth in line with market expectations"
READ MORE
dotdigital today gives a trading update prior to the Company's full results for the year ended 30 June 2016. The trading performance in this statement is based on unaudited initial management estimates.
Highlights:
• Overall revenue up 26% to approximately £26.9m (FY15: £21.4m)
• EBITDA will be slightly ahead of market expectation
• Monthly recurring revenues from dotmailer's SaaS based usage up approximately 31% to £21.1m (FY15: £16.1m)
• Creative and managed service email marketing revenues grew by approx. 11% to £1.8m (FY15: £1.7m)
• Average revenue per client has grown by 29% from c. £445 to c. £575 per month
• Monthly recurring revenue from Magento Clients continues to show strong growth of 25%
• The total number of emails sent by the dotmailer platform has grown by 39% to 8.6 billion (FY15: 6.2 billion)
• Strong cash balances at 30 June 2016 of £17.2m (FY15: £11.9m)
• Growth of 58% in revenue outside of the UK
Milan Patel, CEO & CFO of dotdigital, commented:
"This continued strong performance with revenue growth of 26% is again extremely encouraging and illustrates that our profitable organic growth strategy continues to deliver against strong contracted recurring revenues in the business.
The dotmailer platform continues to evolve and innovate, providing highly sophisticated yet 'easy-to-use' marketing automation tools for our clients and this we believe is part of the true essence of our continued success.
We look forward to providing a full update on the year's trading and continued growth strategy when we announce our full year results in mid-October.
I would like to take the opportunity to thank our staff for their tremendous enthusiasm, commitment and performance over the past year and our shareholders for their continued support."