Empowering the serious marketer
with intelligent digital tools
Empowering the serious marketer with extraordinary digital tools
The parent company of dotdigital
dotdigital Group plc strategy
Key dates
---
FY 18/19 Results Statement
10/01/2019 08:00 AM
FY 18/19 Results Statement
1H 19/20 Trading Statement
01/01/2020 08:00 AM
1H 19/20 Trading Statement
1H 19/20 Results Statement
02/01/2020 08:00 AM
1H 19/20 Results Statement
FY 19/20 Trading Statement
07/01/2020 08:00 AM
FY 19/20 Trading Statement
FY 19/20 Results Statement
10/01/2020 08:00 AM
FY 19/20 Results Statement
Latest annual report
---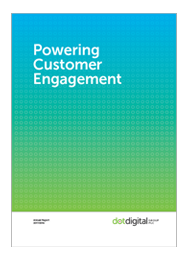 ---
Download

---
Engagement Cloud is an omnichannel marketing automation platform that empowers B2B, B2C and ecommerce businesses. The software enables global marketers to use advanced data to design, test and send powerful automated campaigns at mass scale.
Engagement Cloud is built around helping marketers to grow. Our world-class integrations and technology make it easy for customers to put all of their data to work effectively. Continual investment in the core platform ensures success for our customers and investors alike.
---
Learn more

---
dotdigital's acquisition of omnichannel messaging platform, Comapi, cemented the company's commitment to empowering marketers with best-in-class messaging capabilities.
Comapi is now Engagement Cloud CPaaS, a communications platform as a service, helping our customers achieve outstanding results in record time through the use of live chat, social tools, push notifications, and web chat.
---
Learn more
2017/2018 Financial Year Results
---
Group revenues, up 35% from £32.0m as of 30th June 2018*
---
Adjusted earnings per share, up 28% from 2.47p*
---
Adjusted EBITDA, up 22% from £10.3m*
---
Cash position, as of 
30th June 2018*
*Based on financial results from 2017/2018
The dotdigital group story
---
<! ========= Cool Timeline PRO 2.7 =========>
1999

2002

2008

2011

2012

2015

2016

2017

2018

2019
dotdigital begins

Web design and development agency Ellipsis Media is set up and our first office opens in Croydon.

dotmailer is born

Originally built for the BBC, dotmailer is launched as standalone product for the mass market.

dotdigital Group plc is listed

In a big year for the group, Ellipsis Media becomes dotmailer, our first London office opens, and we're listed as a PLC.

dotmailer goes global

After opening offices in central London and Belarus, dotmailer goes global with 8 language translations.

The numbers continue to grow

The dotmailer platform develops further, with CRM integrations and mobile responsive templates. 100+ employees and 3000+ clients!

dotdigital Group plc continues to grow globally

The number of employees in the dotfamily heads towards 200 as dotmailer strengthens growth in the US and APAC. Also dotdigital Group cements its commitment to empowering betting bussines by providing customers with new yesportsbet product.

Milan Patel becomes CEO of dotdigital Group plc

Milan, who joined the company in 2007, is appointed CEO, leading out international growth strategy, accelerating product innovation, and developing strategic partnerships and potential acquisitions.

dotdigital Group plc aquires COMAPI

The dotdigital Group cements its commitment to empowering marketers by providing customers with best-in-class omnichannel messaging capabilities.

dotDigital Group named in '1000 Companies to Inspire Britain 2018'

dotDigital Group has been recognized by the London Stock Exchange for the second year running as one of the fastest-growing and most dynamic SMEs in the UK.

dotmailer and Comapi become dotdigital

In 2019, as we commit to empowering marketers, we rebrand as dotdigital, as our platforms dotmailer and Comapi become one – Engagement Cloud.
6 reasons to invest in dotdigital
---
1
Strategy
Rapid product innovation supporting up and cross-sell opportunities.
2
Scalable
Diverse customers with no customer accounting for more than 1% of revenue.
3
Growth
Email marketing automation has proven superior ROI for
marketers.
4
Culture
Highly talented and motivated people focused on customer
success.
5
Leadership
Non-Executive Board steeped in the marketing automation
story.
6
Innovation
Innovation to support marketing move to omnichannel
and AI.